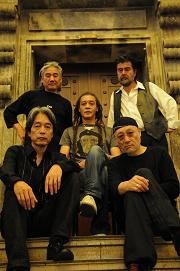 FLOWER TRAVELLIN' BAND
THIS EVENT WILL BE FILMED

In early 1970, the Japanese psych-rock group "FLOWER TRAVELLIN' BAND" travelled to Canada. The first album "ANYWHERE" was released by Polydor Records and produced by Yuya Uchida. FLOWER TRAVELLIN' BAND performed and became good friends with Canadian rock band 'Lighthouse' at the Osaka Expo '70, and later moved to Toronto in December.

In 1971, the band signed with American Atlantic Records and Canadian GRT records released their second album "SATORI" in the U.S and Canada. They performed with Lighthouse, Blues Project, Emerson Lake & Palmer, Doctor John and many others. The band has a hint of ethnic flavor with a melodic Asian rock twist. The single "SATORI PART 2" charted at No. 8 on the local Canadian charts.

In 1972, FLOWER TRAVELLIN' BAND released "MADE IN JAPAN" by Warner Records. They performed a welcome home show in Japan at The Tokyo Metropolitan Gymnasium.

In 1973, they were billed to open for the Rolling Stones, but all concerts were cancelled because of visa problems. The fifth album "MAKE UP" was released by Warner Records. After their final performance in Kyoto Maruyama Park Outdoor Music Stage, the band took a very long break.

35 Years later, the band has reunited in 2008 performing at The FUJI ROCK FESTIVAL this summer and have recorded a new album called "We Are Here".



Buy tickets